For your convenience, we have installed the link below to make donations to this website easier. Now you can utilize your PayPal account or your credit card.
--------------
Mechanics Club
Serving the youth of our area since 1932. Click here for details.
-------------
We also have a Business Card Page. Click here.
----------------
To visit the Schuyler Little League website, click here or on logo above.
------------------
Click below to call up a Boosters e-mail form.
------------------
WATKINS GLEN SPORTS BOOSTER CLUB
Supporting the Senecas! You can reach the club at wgboosterclub@yahoo.com
-----
Mechanics Club - Serving the youth of our area since 1932 - click here for details.
-------------
-------
We also have a Business Card Page. Click here.
----------------
To reach the Watkins Glen School District website, click here.
--------------
703 South Decatur St., Watkins Glen, New York. Call (607) 535-4666.
---------------
Click on the ad below, and go to the H.L. Stephens website
--------
We also have a Business Card Page. Click here.
---------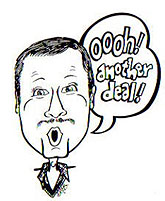 To go to Jim Guild's Famous Brands website, click on the drawing above or here.
The line of cars heading to the Watkins Glen International garage and the tech process.
A Track Day at Watkins Glen


The following is an account by racing enthusiast Bob Brown of Montour Falls regarding his experience at Watkins Glen International racetrack during a Track Day -- a regular learning event for a diverse group of drivers.
By Bob Brown
WATKINS GLEN, May 2018 -- Watkins Glen is the spiritual home of road racing. The evidence is in those who practice the faith.
There is something about the sleek lines of a fast car; the rumble of a powerful engine and the smell of race fuel. For those who grew up in the late sixties and seventies we celebrated the culture of the muscle car and racing. For those of us older, Formula One and the 6 Hours of Watkins Glen represent the pinnacle of Motorsports. For those younger it would be The IndyCar Series and NASCAR.
Standing on the corner of Fourth and Main during Vintage Festival this past September in Watkins Glen, and seeing the cars go by made my heart beat faster. The sounds and the smells all make me want to do more than just stand on the sidelines and watch. I am pretty sure I am not alone.
During the warmer months our little town could be featured in any episode of Top Gear.  Our streets are graced with every type of sports car made. They are not all here to race; the majority are here to participate in Track Days and do HPDE, "High Performance Driver Education." Some of the clubs that offer HPDE are NASA, Hooked on Driving, SCDA, BMW, and Porsche. There are many others.
I signed up with NASA, which stands for the National Auto Sports Association. The blurb on their front page pretty much said it all for me.
Drive your car on America's most famous road courses!
You have always wanted to know what "she could do," but you know the streets and highways are not the place. NASA gives you and your car an easy, safe, and affordable way to get on the track! No speed limits, no pedestrians, and best of all-no tickets. The NASA HPDE provides you with an experienced racer to help guide you through the event, one on one, as you learn how to handle your car at the limit. You set your own goals and go as fast as you feel comfortable going.
How?
Basically, all you need is a safe car and a helmet. The car does not have to be fancy or fast. Students bring everything from a Hyundai to a Ferrari.
*****
I signed up for the 23rd and 24th of April to do my first Track Day. I was excited and had to get my car ready. There is a Tech form that you need to fill out. You can do it yourself or take it to your local garage. All the basics are checked, good tires, brakes, fluids topped off, belts, hoses, steering, suspension and safety belts. Bring or rent a Snell approved helmet, and you're ready to take your everyday car to the track. My car came prepared for the track. I bought it that way, knowing what I wanted to do. It already had a five-point harness system, race seats, air ducts for the brakes for cooling and brakes designed for the race track. The suspension system was updated and designed for the track. It is recommended for everyone to have track rated brake pads along with synthetic brake fluids as your brakes will get a real work out and your everyday set-up will not handle the heat generated at the track.
A few days before my Track Day I heard from my instructor, Jim Tramontano. He inquired about my experience and asked if my car had any modifications. I had a chance to ask questions about my upcoming day. We talked about air pressure for the tires, what brake pads I was using and some general questions about what kinds of maintenance I had done to prepare my car. We chatted about some of our interests in cars and racing and just got to know each other. I would later learn how important this was, as we would both rely on the other for our safety. 
At the Track
I arrived that Monday morning at the front gate and signed the waiver form. Making my way through inner loop I found the garage and the tech inspection area. The first thing to do was to sign in and get my numbers. I got number 99 and then went out to find a place to park and unload my car. The car needs to be stripped of anything not bolted down.  Floor mats, tools, things in the glove compartment, along with my folding chair, cooler and spare clothes.
The car, stripped down.
I got in line to go through tech. The scene ran the gambit from fully prepared race cars to everyday ones. There were fancy and just off the showroom floor vehicles to older well-used cars that looked like they had been around. The drivers seemed to be just as diverse.
When it came my turn to go into tech I met Greg Gotch, who had been with NASA for three years. He was friendly and went over each of the things on the tech sheet and looked over the car. When he was done, he placed a tech sticker on the front window designating which group I would run with. I was green for beginner. He also placed a bigger green sticker on the back of my car so that other drivers in group one would know that I was a new driver when they came up behind me. Group one and two would occupy the track at the same time, so it was important for other drivers to be aware that I might do something stupid and give me plenty of room.
Going through Tech
After finding my way back to my pile of belongings I ran into a neighbor, Willie Hayes. I had no idea he did Track Days and asked how he got involved.
"When I was 66 I figured I finally had the time to do some of the things I always wanted to do," he said. "I see the cars go by the house all the time and wondered what they were doing at the track. I was down getting gas one day and a car pulled in with numbers on the side and I struck up a conversation with the driver about what they were doing. He gave me a brief rundown of what a Track Day consisted of and handed me some of the NASA info. After making some phone calls and checking out their site on the internet I signed up. That was four years ago. I do three or four Track Days a year. The people are friendly, and the instructors are top notch."
Willie Hayes
While we were talking, they announced the Drivers' Meeting over the lou speaker. This is when Joe Casella, the organizer and head of NASA Northeast, goes over track conditions, passing locations and the order we would go out on the track. There are four different groups based on skills, and the rules for passing are different for each. The lower groups are only permitted to pass in certain places and only with a "point by" from the car in the lead. HPDE is not racing. There is a big difference between some of the cars on the track.  The Mazda Miata is not going to keep up with a Corvette on the straights and there is a good chance the Miata might be faster on some of the tight and technical corners. The 'point by," when you reach out the window and signal the driver behind you which side to pass on, insures that everyone gets to enjoy the track, and no one gets held up.
Next, we heard from the Medical Director and classroom instructor, Dr. Enrique Guttin, who went over procedures for any medical injuries and provided wrist bands for those with medical conditions. He discussed the importance of being hydrated and being aware of driver fatigue.
Dr. Enrique Guttin on left, Joe Casella on right.
Drivers' meeting.
Groups three and four were on the track first. Group two was in the classroom where Dr. Guttin went over details of the track and answered any questions concerning the line, braking dynamics or any other technical questions that someone might have.
I had 25 minutes to kill because I was not scheduled to be in the classroom or on the track. The day is broken up that way with a division of track and classroom, with time between the sessions. I would have three classroom sessions and four sessions on the track.
I visited with Jay Parmenter and Joe Mc'Innis, who are both local, and are here this week to get some track time in and get ready for their competition license test. Jay has been doing HPDE for five years and has attended two race schools. NASA prides itself on being a pathway to competition racing. Driving in the HPDE Level 4 class, where you can pass anywhere on the track, is the first step.
Jay Parmenter
Joe Mc'Innis
The 25-minute session ended, and it was time for me to head to the classroom.
Dr. Guttin went over the track corner by corner and discussed some of the basics involved in negotiating the track. We then went over each of the flags and what they meant. Each new student is required to have an instructor in the car with them. The instructor drives your car the first lap. This gives him a chance to confirm that the car has no safety issues and show you what your car is capable of. The 25 minutes flew by and we all headed out to our cars to pick up our instructors.
Dr. Guttin
I headed over to pick up Jim, my instructor. I had suggested to Jim that he do two laps in my car, instead if one. I wanted him to get used to it. He races a Miata and though he has instructed for the last five years and has driven many different cars I wanted him to be comfortable in mine. I had track tires on which would take a lap to heat up and make them sticky. While I have raced thousands of miles on the race tracks on motorcycles, this was only the second time I have been in a car on the track.
Jim completed his two laps, showing me each spot for braking and balancing the car and where to begin feeding it the throttle. He explained each of the steps to me as we entered and left each corner.
Jim Tramontano
We switched seats and now it was my turn. We took our first lap kind of slow. I had asked Jim to give me a running commentary as we took each corner. My energy was split between where on the race track I needed to be and learning the limits of my car. Hard braking seemed to take the most concentration. Bringing a 3200-pound car from 130 mph down to about 50 mph in the shortest distance to make a corner is not the kind of thing you can practice on local roads. Before I knew it, the session was over.
Back in the classroom, we talked about our experience out on the track. The question asked was, "Did we have any surprises?" Each student shared something about their experience, giving some insight to the others. We were all very excited and the time passed quickly.
With the classroom session ended, I made my way around the pits hoping for a ride in an instructor's car. Instructors run in every class and their car is marked with an X. Over the course of two days I would ride with five different instructors and once with my own while he drove my car again and showed me some of the finer points. Each session, whether I was in the classroom, driving, or in the passenger seat gave me a new nugget of information.
Jim and I developed a shorthand form of communication after a few sessions out. He told me when I missed a brake marker or turned in too early. He trusted his life with my skills and judgment. I pushed the car as hard as I could. I messed up a few corners, got loose in a few more. Each of those times he calmly gave me advice to fix it. I came to admire his courage and his patience. I felt fortunate to have such a capable young guy as an instructor.
By the end of the second day the drivers had thinned out. I had the track pretty much to myself and felt very comfortable throwing the car through the corners, pushing the tires and brakes to their limit. I was driving on a legendary track, the same track as some of my heroes. This has truly been an adventure.
*****
As a young boy I dreamed of driving a fast car on a race track. This week I realized that dream.
Take a ride with me around the track; the first lap is to put some heat in the tires.
https://www.youtube.com/watch?v=nPwTjbZNfeI&feature=youtu.be
If you're interested in finding out more about the experience, feel free to contact me at Bob@EmpireGP.com
*****
Links to some Track Day groups
https://www.nasaproracing.com/hpde/vv
https://www.hookedondriving.com/home