To visit the
Agriculture Page,
click here.
---------
Our Primary Pages
Home
Sports
People
Features
Business
Government
Forum
Schools
PSA
Calendar
History
Obituaries
Wine & Tourism
Agriculture
Click here or on the ad above to reach a Chamber of Commerce website.
--------------
Click here or on the ad above to reach the Schuyler County Partnership for Economic Development website
--------------------------------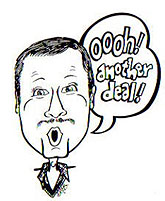 To go to Jim Guild's Famous Brands website, click on the drawing above or here.
-----------------
Curly's Family Restaurant, Watkins Glen

Curly's Family Restaurant, located on Route 14 near the P&C Plaza in Watkins Glen. Phone: 535-4383.
Serving breakfast, lunch and dinner.

Website!! To link to the Curly's Family Restaurant website, you can click on the photo at left or here.
---------------------------


A musical adventure, in remembrance: Holly and Kim win AGT judges' approval

By Charlie Haeffner
Editor/Publisher
SCHUYLER COUNTY, July 18, 2023 -- The timing could not have been worse.

Of course, there's no good time to be sick, but to be hit with a sinus infection when you're about to sing on national television -- well, that's bad timing.


That's what happened to Holly Campbell, who was out in Pasadena, California, to perform with a dear friend on America's Got Talent (AGT), an uncommonly popular variety program that showcases entertainment of all kinds from not just America, but around the world.

Holly (pictured on the far right onstage at AGT), an English teacher at Odessa-Montour High School in Odessa, New York, was teamed with Kim Scadlock, a woman from Oregon who Holly met years ago under uniquely emotional circumstances -- for Kim (pictured on the left in the photo) is the mother of a boy who received the heart from Holly's son, Jake, after Jake died at 11 weeks of age back in 2007.

That connection apparently attracted AGT to the two women, but beyond that, an almost unbelievable beacon was a song they sang on Tuesday night's AGT program -- from the musical "Wicked," which contains a moving song, "For Good." It was the last song that Holly sang to Jake as she bid him farewell, and the first one that Kim sang to her son, Beckham, after he had received Jake's heart.

The two women didn't know each other back then, but they both knew and loved that song -- meaningful for the one mother saying goodbye to her son, meaningful to the other mother whose son (born with heart valve problems that required a transplant) had received the gift of life.

The song has a number of emotionally charged lines, but one that Holly has pointed out that has particular personal meaning is this one: "You'll be with me like a handprint on my heart."

******
After Jake (pictured at right) was stricken on that fateful day in 2007, he was rushed to a Rochester hospital, but did not survive -- leaving his grieving parents, Holly and Andy, to make a decision: to donate his organs, a brave and hugely meaningful choice that led to Beckham's salvation out in Iowa, where the Scadlocks lived at the time.

The Campbells did not know the Scadlocks, nor did they know for some time who had received Jake's donor heart. But they eventually met, in 2010, at the Transplant Games of America, held in Wisconsin. And they became friends -- so much so that in 2015, at a gathering of both families at the John W. Colloton Pavilion at the University of Iowa Hospitals and Clinics, their stories were shared, and Holly and Kim sang "For Good" for the family, friends, nurses, doctors and passers-by present there. It was an unrehearsed performance, and emotional, and was followed by another one a year later at a similar meeting at the Golisano Children's Hospital in Rochester.

Those two occasions were the only ones, before America's Got Talent, where the two women performed together in public. There might have been 100 people at the Rochester gathering, and fewer in Iowa. The Pasadena Civic Auditorium that houses AGT seats 3,000 -- daunting, perhaps, if not for the fact that Holly has a long history of singing in public, in particular The National Anthem at many events.

But Holly, in an interview with WETM-TV this week, said that singing also offers her something beyond the satisfaction of performing on stage -- especially, one supposes, when it is that song from Wicked, something so highly personal and meaningful.

"I think about Jake a lot." Holly said in that interview, "and when I perform, for me it's cathartic. It's a healing process. I've always loved to sing and when he was a baby, I sang to him a lot, to soothe him, and so singing is sort of an extension of that healing process for me."

But to get on that AGT stage -- for an audition before the famed judging panel of Simon Cowell, Sofia Vergara, Heidi Klum and Howie Mandel and before so many people, and for a performance being taped for an airing before millions on TV -- had to be challenging, the healing process, informational opportunity, or the thrill of performing notwithstanding. And even more so, given that Holly had contracted that sinus infection.

*******
Holly (pictured at right, outside her home) picked up the infection on her way out to California, a trip that came in April. The trip's genesis was a message to Holly by social media late one February night from a representative of AGT interested in Holly and Kim going out to Pasadena for an audition -- for that appearance before the judges and crowd. Holly thought at first the message was from somebody messing with her -- as did Kim, who simply discarded it. But the legitimacy of the proposal was eventually established.

And so Holly made her way West, although by the time she reached the auditorium for what was a very long day -- of interviews, plenty of waiting and, ultimately, the performance -- she was not feeling well, feeding herself lozenges and carrying (and using) a squeeze bottle of honey to soothe her throat.

"I should have gone to Urgent Care," she said this past week, "but I was just so busy, I didn't. In retrospect, I should have carved out some time for it in the afternoon." She went the next day, and the physicians there were able to alleviate the discomfort.

"But it went well," Holly said last week about the trip, though in the period leading to the show she was under a strict directive not to reveal any specifics about the results -- whether she and Kim had received the judges' approval or not, or whether they had received the ultimate, a golden buzzer that moves a performance straight from audition to the later live shows.

It is perhaps little known, but logical, that while either a 4-0 or 3-1 vote advances an AGT act to another round of competition, not every performer follows through, health issues, logistics, real-world jobs or, perhaps, a satisfaction in meeting a one-time challenge of time on that stage taking precedence. In other words, life might intervene.

Holly said she and Kim had not intended to return, "For Good" being the only song in their duet repertoire. They just wanted to get the message of organ donation -- of how much good it can do -- out to the public. But Holly said the experience on-stage had her thinking, despite misgivings by Kim, that maybe they could return. But she was at last word leaving up in the air, at least publicly, what the future might hold.

In any event, the appearance was both emotional and successful. The two women hugged at its conclusion, each saying to the other "I love you."
The crowd, many with teary eyes, and the judges loved them, too, a reaction heightened by the arrival onstage of Kim's son Beckham, walking from the wings to stand with his mother and next to Holly. He will be 16 on August 1st.
The judges, one by one, gave the two women unanimous approval. Four yes votes.
Howie Mandel started the judges' comments by saying the act was "the most magical moment I've ever experienced on America's Got Talent."
Added Heidi Klum: "I just want to hug all three of you." And then to Holly and Kim: "What strong women."
Said Sofia Vergara: "This is a moment we're always going to remember."
And finally, Simon Cowell noted that while Holly and Kim had obviously been "nervous," they were also "very brave. This will make a difference."